Click on the blue circles for information about the various areas.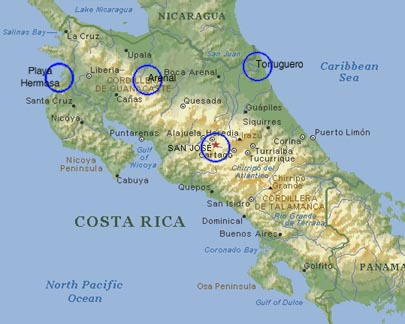 San Jose is the capital city of Costa Rica. It is a noisy bustling city with great shopping and many fascinating museums.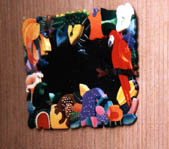 I found a large mirror with brightly colored plants and animals of Costa Rica carved in wood all around the frame which I managed to carry back on the airplane successfully.
San Jose also has many parks, large and small, as well as a small zoo containing many native birds and animals. Within 20 kilometers from the city, you can find the peace and beauty of the rain forest and many national parks and preserves.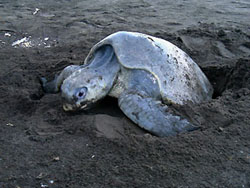 Tortuguero National Park is the largest nesting area for green sea turtles and also shelters many species of monkeys, parrots, crocodiles and other animals. When the baby turtles hatch on the beaches, they look for the light reflecting off the sea to guide them to the water. Lights from hotels and other man-made sources confuse them and they can head the wrong way away from the safety of their homes. This has given rise to a new occupation - turtle turner. People are hired to turn the baby turtles back towards the ocean in order to protect the species.
Arenal Volcano was sending forth rivers of lava when we saw it.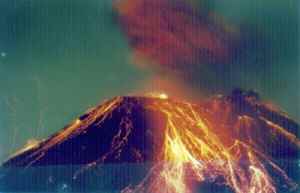 We had been worried that we wouldn't have time to see it because all the tours were combined with other things and took too long. But one night at dinner, we were talking with our waitress about it and before we knew it, we were in a taxi belonging to her brother and driven by her husband, watching the lava pour down the mountain. It was a long drive from San Jose, complicated by getting lost many times with our non-professional driver, who had never seen the volcano before either, but it was an adventure, and the lava was beautiful in the clear night.
&nbsp

&nbsp